Experience the thrill of action-packed side-scrolling mayhem with Super Turrican 2. Thanks to the power of console emulators, you can now play this adrenaline-pumping game online using a Super Nintendo (SNES) emulator. In this article, we'll explore the game, provide a review, delve into speedrunning techniques, discuss game controls, cheats, and more. Get ready to unleash your firepower and save the galaxy!
Super Turrican 2 – Playing Online with Console Emulators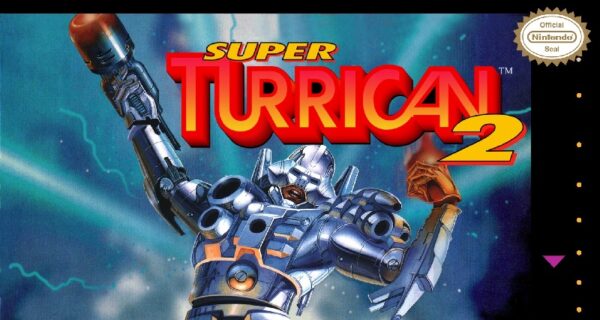 Embrace the nostalgia and play Super Turrican 2 right in your browser using a SNES emulator. Simply find a reliable emulator compatible with your browser, load the game ROM, and immerse yourself in the explosive gameplay. Console emulators offer a convenient way to enjoy classic games without the need for physical hardware.
Reviewing Super Turrican 2
Super Turrican 2 is an exhilarating platformer that pushes the boundaries of the SNES hardware. With its stunning graphics, intense action, and memorable level design, the game captivates players from start to finish. This US English version of the game features enhanced localization, providing an immersive experience for players worldwide.
Game Controls and Keyboard Mapping: When playing Super Turrican 2 on an emulator, you can customize the controls to suit your preferences. Emulators allow you to map keyboard keys to various game functions, ensuring smooth and responsive gameplay. Experiment with different control configurations to find the setup that maximizes your performance.
Unleashing Cheats and Cheat Codes: Super Turrican 2 offers cheat codes that can enhance your gameplay experience. Unlock power-ups, invincibility, or other hidden features to gain an edge against the relentless enemies. However, it's important to note that using cheats may affect the overall challenge and satisfaction of the game. Choose wisely and use cheats responsibly.
DDC3-1D05 Start with 0 bombs
DFC3-1D05 Start with 1 bomb
D9C3-1D05 Start with 5 bombs
DCC3-1D05 Start with 10 bombs
DDC3-1FA5 Start with 1 life
D0C3-1FA5 Start with 5 lives
DBC3-1FA5 Start with 10 lives
D3C3-1FA5 Start with 15 lives
DFC3-1705 Start your first life with very little energy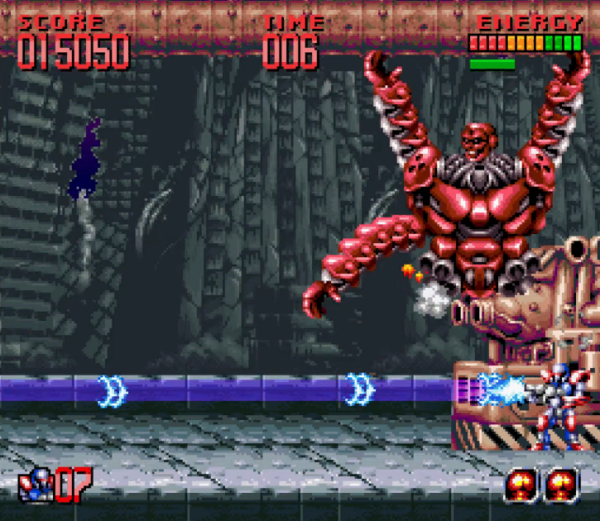 Immersive Music and Soundtrack: Immerse yourself in the pulsating beats and catchy tunes of Super Turrican 2's soundtrack. Composed by the legendary Chris Huelsbeck, the music perfectly complements the intense action on-screen, enhancing the overall experience. Get ready to have the adrenaline pumping through your veins as you navigate each level to the rhythm of the electrifying soundtrack.
Mastering Speedruns: For those seeking a challenge, Super Turrican 2 offers exciting speedrunning opportunities. Test your skills and compete for the fastest completion time by employing precise movement, strategic weapon usage, and exploiting hidden shortcuts. Join the speedrunning community, share tips, and push the limits of your gameplay prowess.
Captivating Visuals, Wallpaper and Images: Super Turrican 2 boasts visually stunning environments and vibrant sprites that bring the game to life. Explore diverse worlds filled with imaginative creatures, hidden secrets, and challenging boss battles. Immerse yourself in the captivating visuals and discover the collectibles scattered throughout the game to unlock special bonuses and achievements.
Finding ROMs and Downloading Games
To play Super Turrican 2 on an emulator, you'll need to obtain the game's ROM file. Several websites offer a wide range of ROMs for download. It's important to choose reputable sources to ensure you're downloading the game legally and supporting the gaming industry. Always remember to respect copyright laws and preserve the integrity of game distribution.
Prepare for Explosive Action
Super Turrican 2 delivers non-stop action, intense challenges, and unforgettable gameplay. Strap on your high-tech armor, grab your powerful weapons, and embark on an intergalactic adventure.
Super Turrican 2 Full Walkthrough Gameplay
FAQ About The Super Turrican 2 Game On SNES Emulator