Unleash the excitement of aerial combat in UN Squadron, a classic arcade shooter for the Super Nintendo (SNES). We'll explore how to play UN Squadron online using a browser-based SNES emulator. Discover a review of the game, tips for speedrunning, insights into the manual and game controls, and even uncover cheats and cheat codes. Immerse yourself in the adrenaline-pumping music and soundtrack, and find stunning wallpapers and images to enhance your gaming experience. Get ready to download the US English version of the ROM for free and take to the skies in this action-packed game.
UN Squadron – Playing Online with Console Emulators
With the help of browser-based SNES emulators, you can enjoy UN Squadron online. Access reputable websites offering SNES emulators, locate the game, and start playing directly in your browser. No additional software installations are required, making it convenient to experience this thrilling game.
Review of UN Squadron
UN Squadron delivers intense aerial action, combining fast-paced shooting gameplay with a variety of missions and challenging bosses. The game's dynamic difficulty and tight controls keep players engaged, while its impressive graphics and sound effects enhance the overall experience. Strap into your fighter jet and take on the forces of evil in this highly regarded arcade shooter.
Mastering Game Controls and Keyboard Mapping: To excel in UN Squadron, familiarize yourself with the game controls and customize the keyboard mapping on your SNES emulator. Precision and quick reflexes are vital for dodging enemy attacks and unleashing devastating firepower. Practice maneuvering your aircraft and mastering the controls to achieve aerial supremacy.
Unleash Power with Cheats and Cheat Codes: UN Squadron features cheats and cheat codes that can give you an edge in battle. Unlock special weapons, gain extra lives, or access hidden features to enhance your gameplay. Experiment with different cheat codes to discover new strategies and overcome challenging missions.
A923-DDDF + A923-DD6F Infinite lives
AD2C-0D0F Infinite continues
DF89-040D Start with 1 life and 1 continue
D989-040D Start with 5 lives and 5 continues
DB89-040D Start with 9 lives and 9 continues
2238-A72F Infinite shots for all weapons
A98E-07D4 Infinite money
DD80-0DAD Start with no money
BD80-0DAD Start with $9,000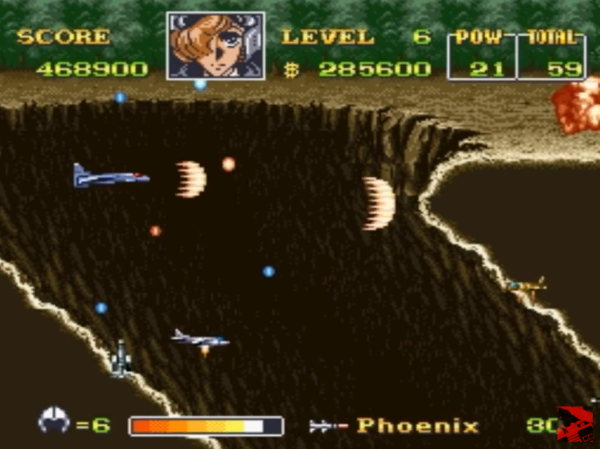 Immerse Yourself in the Electrifying Music and Soundtrack: The music and soundtrack of UN Squadron intensify the gameplay experience, immersing you in the high-stakes world of aerial combat. The energetic tunes and adrenaline-pumping beats perfectly complement the intense action on screen. Let the captivating soundtrack fuel your determination to save the world.
Find Stunning Wallpapers and Images: Enhance your desktop or mobile screen with stunning wallpapers and images from UN Squadron. Explore online communities and fan sites to discover high-quality artwork and screenshots showcasing the game's dynamic visuals. Immerse yourself in the game's world even when you're not playing.
Free ROM Download
To embark on your UN Squadron adventure, download the US English version of the ROM for free from reputable sources. Numerous websites offer legal ROM downloads, allowing you to experience this classic game hassle-free. Remember to respect copyright laws and only download ROMs for games you own or have the rights to play.
UN Squadron remains a beloved classic among arcade shooter enthusiasts. With the accessibility of SNES emulators, you can easily play the game online and relive the exhilarating battles in the skies. Discover a comprehensive review, master the game controls, utilize cheats and cheat codes, and immerse yourself in the captivating music and visuals. Download the US English version of the ROM for free and prepare for heart-pounding aerial combat in UN Squadron.
UN Squadron Full Walkthrough Gameplay
FAQ About The UN Squadron Game On SNES Emulator